Hightemp-TF Thick Film Stainless Steel-Based Heater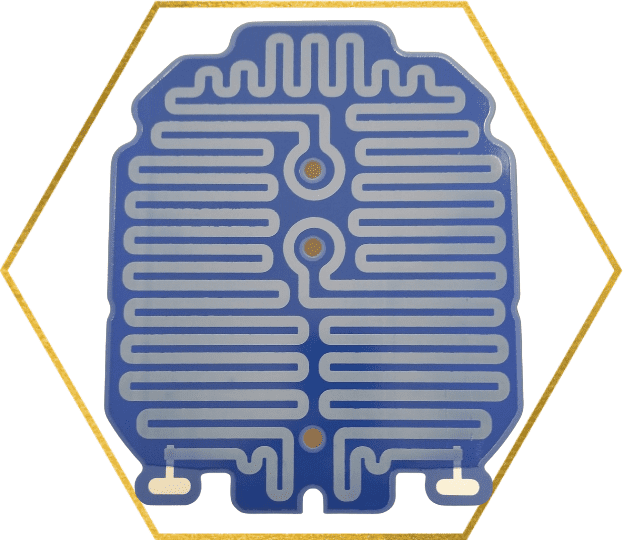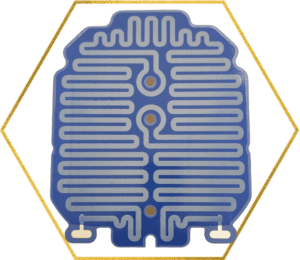 Datec designs and manufactures stainless steel thick film heaters (HighTemp-TF) by printing heating elements directly onto a stainless steel substrate. Stainless Steel thick film heaters are compact, lightweight and generate heat quickly and efficiently.
Stainless steel thick film heaters are suitable for a variety of applications such as steam generation, grills & griddles, packaging lines, 3D printing and many others.
Datec's HighTemp-TF technology is comprised of a dielectric, resistor, conductor and a finish coat layer printed on a stainless steel substrate using screen-printing technology and cured at high temperatures. The resulting heater is a fast, reliable, and high-performing solution. HighTemp-TF heater is ideal for applications that need high performance, reliability and energy efficiency.
Stainless steel heaters are capable for applications that need high temperatures of up to 840 °F (450 °C). The heaters can be applied to complex shapes to generate targeted heat. The heat flux (watt density) can be as high as 200 W/in² (31 W/cm²). Datec's engineers develop custom heater designs to meet the customer requirements. Contact Us to learn more
Benefits
With Datec's heating elements printed directly onto aluminum, the thin and low-profile IntegrAL provides:
RELIABLE PERFORMANCE
Proven reliability with a long life
RAPID THERMAL CYCLING
Low thermal mass and high power density result in fast temperature ramp up and cool down
TARGETED HEAT GENERATION
With unique custom designs, the temperature can be generated in targeted zones
TEMPERATURE CONTROL
Precise temperature control is possible using integrated sensors
Applications
Food Service

Griddles, Steamers, Fryer systems

Medical & Life Science

DNA analysis, Blood diagnostics, CPAP, Sterilization

Industrial

Water heating, Packaging, Enclosures

Printing

Thermal printers, 3D printers, Commercial & Industrial printers
Technology
The exploded view below shows several different layers of a stainless steel thick film heater
Stainless Steel Substrate – The stainless steel plate can be as thin as 4 thou (0.1 mm) to as thick as 400 thou ( 10 mm)
Dielectric Base Layer – Isolates the electrically active heating circuit from the stainless steel plate and prevents electric short circuit.
Conductor Layer – Carries current through the circuit and interconnects resistors
Resistor Layer – Generates heat as a result of electric resistance. The resistor layer can be customized to change power and heat dissipation to meet application requirements
Dielectric Overglaze ( Finish Coat) – Protects the electrical circuit and provides electrical isolation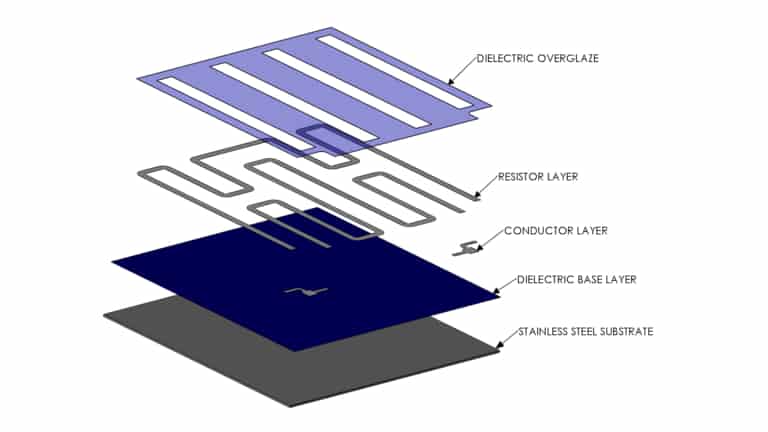 Technical Specifications
| | |
| --- | --- |
| Max Temperature | 840 °F (450 °C) |
| Power Density | 200 W/in² (31 W/Cm²) |
| Voltage | Upto 240 V |
| Size | 20" X 20" (50 cmX50 cm) |
| Power Tolerance | -10/+5% to -/+5% |
Working with Datec and their unique ability to print robust heating circuits and apply proprietary coating technologies provided us with a game-changing solution for two of our clients so far. They are a great, collaborative team to work with
- Joel Yatscoff, Design Lead
We chose Datec because they had the best technology and were the most responsive partner for our new product development.
- CEO of Medical Device Company
Want to Learn More About Our Custom Thick Film Solutions? Talk to Our Engineering Team!
About Datec
Datec is a custom heating element manufacturer, specializing in patented thick film heating solutions for clients in the USA and Canada.
Our team of dedicated research scientists and engineers have led the industry for over 20 years creating heating solutions for industries that include food service, medical, commercial, industrial, and consumer goods.
Kapton® is a Registered Trademark of DuPont*